The Walling family wedding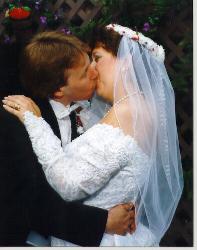 Hello and welcome to the wedding page for Dan and Angela Walling.
This joyous occasion was held on September 13, 1997.
This page is dedicated to them in the hope of a long, happy, and joyous marriage.
The Groom Dan was born in Redbank, N.J. He moved to Houston, T.X. when he was nine. Angela was born and raised in Houston. They met six years before and it was love at first site. Check out the pictures of the lucky couple joining hands and taking the vows that will link them together for all eternity. The ceremony went off without a hitch and many said that even though small it was absolutely wonderful.
It was held at the White Dove wedding chapel in Houston, TX, USA.

Welcome to the Walling wedding page.
Just click the arrow


you see for the next page on the tour
or use the buttons below to move through the site.


Here is a list other wedding sites I made.

Jones wedding: My bestfriend Tiffeny wedding.

Reyes Wedding: Our good friends Karen and Reuben wedding.


Click on home to see our other sites or email us.
Many thanks to the

visitors to this page
©1998-2000 Wayward Design & BEW Web Design