Poems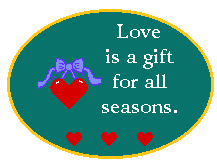 "Valentine Gift"
For Valentine Days
I give you my soul.
To show you in every way
How much you will never know...
I thank you for the times,
You showed me you care.
The love and tenderness,
You were always there...
Through all the years,
When things were not right.
We shared the tears
But would never fight...
So I give you this valentine
For you, my best friend
Because a friendship like ours
will never end.
ARW
2-14-86

Take the tour

Or click to return to Poem page