Poems
by Friends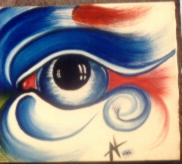 "Lost and Found"
Only in love,
Have I ever been lonely.
Like flowers crushed,
In the arms of childern.
Only in hope,
Is the world so hopeless
Wishing so hard...
Dreams suffocate in wild honey
Only in weakness
Am I strong enought to fight
Expending Final Breaths
to scream...No!
And only in way ignorance
Have I ever been right
Only then are my ears
Clear enought to hear.
SAM
87'
Take the tour

Or click to return to Poem page