The Walling Family Wedding Pictures
Here are some pictures from our wonderful wedding

THE WEDDING PARTY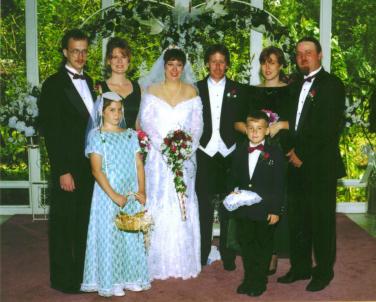 This is the Wedding party.
From left it's Groomsman Brian, Bridesmaid Melinda,
The bride Angela, The groom Dan,
The Maid of Honor Tiffany, The best man Joe,
And the two kids are Flowergirl Krystal and The Ring Bearer Michael.

The groom's family.
From left are Don, his wife Dorothy;
Dan's sister, with their daughter Krystal,
Cousin "Big" Mike,
Bride and Groom Angela and Dan,
Aunt Sally and her husband Uncle John,
and Their son Bill.
The Bride's family
From left; Cousin Keith,
Sister Jeanne with her daughter Carolyn,
Father George with his Mom Vickie,
The Bride and Groom,
Mother MaryAnn, Brother Brian,
Keith's wife Susan, Second Cousin Elizabeth, Sister Kathy with her son Avery, Brother Alan, and Aunt "Suzie" Agnes (We'll miss you!).
Just click the arrow
The Walling Wedding Tour


Click on home to see our other sites
Many thanks to the

visitors to this page
©1998-2000 Wayward Design & BEW Web Design