Our Trip to New York City
Churches in the Big City!
Its amazing to see these beautiful church
surrounded by the giant skyscrapers.


Saint Patrick Cathedral


Trinity Cathedral


Inside St. Patrick's.
They hold mass 3 or 4 times a day every day.
The front door is so worn from everybody visiting
that it looks polished.
The Pope has visited here.


Inside Trinity
What beautiful stain glass windows.
Queen Elizabeth visited this church
and brought pepper corns.
In the old English days Churches paid there
taxes in pepper corns.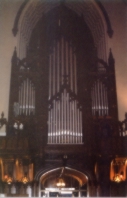 The bells for the organ inside Trinity Cathedral.