AngelaRoseWalling
The Poet and Artist

Howdy! My name is Angela Rose Walling
(My maiden name is Woodhouse).
I was born on May 9, 1970 in Houston, TX.
I grew up in a part of Houston called Spring Branch.
I graduated at Northbrook High school in 1988.
I got married September 13,1997. The wedding was beautiful.
My husband name is Dan.
We went to the same highschool but never meet til later.
But we knew all the same people.
My favorite color is green. Because it is my birthstone.
I love to oil paint and write poems.
I started painting in October of 98. I have an art site.
I started writing poems in high school.
It was a great way for me to express my feelings.
I was kind of shy.
My other hobbies are making websites and shooting pool.
I also like taking pictures. Everybody calls me picture queen.
I have two older sisters and two younger brothers.
Both my parents were born in Houston.
I learn some of my computer skills from my brother Brian.
I hope you enjoy all my sites.
God Bless You!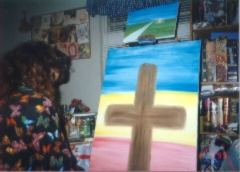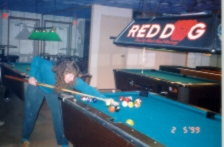 This is me painting my tenth painting for my church
and shooting pool at Faces in Spring Branch.